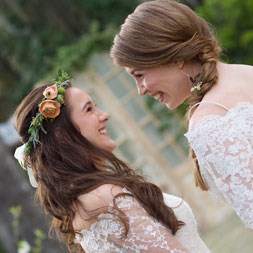 Wrightsville Manor Inspiration Shoot — Provence Without Passports
We're so excited to finally be able to share this beautiful shoot — featured today on
H&H Weddings
— with you!
Storytellers by nature, we start every wedding design with a deep understanding of the couple's one-of-a-kind love story, working throughout the planning process to weave meaningful personal touches into every aspect of their wedding day.
It's all about the story (
your
story!) and we can't help but approach styled shoots the same way.
In this case, we fell head over heels for an overheard tale of a proposal in the lavender fields of Provence … and couldn't stop thinking about how a Wilmington-area wedding for two beautiful brides ("Lauren" and "Heather") might reflect that story. Thanks to the passion of an incredible team of vendors — along with a brainstorming boost from our awesome photographer, Amy McConnell at
1 of 13 Photography
— we couldn't be happier with the results!
We started with a gorgeous venue —
Wrightsville Manor
— whose white-washed brick, massive fireplace, arched doorways, amazing natural light and beautiful grounds all contributed to the French farmhouse feeling we wanted to create.
For a look that was both romantic and grounded, we chose a color palette of light coral, watermelon and rosé tones along with soft, dusty greens to accent the range of purples found naturally in lavender plants — from the palest heather through periwinkle, wisteria, amethyst, and violet.
Then we started layering to give the day a sense of the brides' (imagined) history. We decided one of the brides had spent most of her summers at her grandfather's farm in Provence — and brought in stunning trestle tables, a beautifully carved sideboard and custom bar, a gorgeous pair of antique doors and candlesticks galore from
Relic Vintage Rentals
, along with swoon-worthy farmhouse chairs from
L&L Tent & Party Rentals
and cherished antiques like a needlepoint chair, French mirror, and salvaged architectural columns borrowed from
Lucas Farmhouse
.
Eco Chic Blossoms
brought our floral vision to life, incorporating plenty of fresh lavender, herbs and flowering branches, along with touches of coral reminiscent of the rosé Provence is famous for. One of her tiniest touches is also one of our faves: boutonnieres of fresh lavender, thyme and rosemary, accented with Heather's favorite peach ranunculus, for the men of honor.
The brides themselves couldn't have been more beautiful or more radiant! With lots of expert guidance from
The Wedding Dress Shoppe
, we outfitted them in a soft, simple lace A-line gown from
Ellis Bridals
and a
Justin Alexander
silk dupioni ball gown with spaghetti straps and pockets(!) topped with a sweet lace popover jacket.
Amy Kennison
worked her usual magic, giving each bride a timeless, romantic, natural glow to complement hairstyles from
Terry Tomb
. Their rings — from
Albert F. Rhodes Jewelers
— perfectly suited each bride's style. And could their shoes — lilac suede with delicate bows for Lauren and a rosé suede with chunky heels for Heather — be any more perfect?
So how else did their story reveal itself?
The lavender fields that set the stage for their proposal were reflected not just in the brides' flowers but in the custom watercolor stationery suite from the amazing
Southern Bee Designs
, crocks and pots and buckets of blooming lavender highlighting the hearth as well as the aisle, the sprigs tied to hand-painted escort cards (also from
Southern Bee
), one of the signature cocktails (developed by
Wrightsville Manor
), and the dried lavender buds provided for the eco-friendly send-off.
The brides' passion for good food came through in the choice of a mouth-watering French charcuterie display from
A Thyme Savor Catering & Market
, the crusty pots of herbs at each place setting, and the tiny bottles of rosemary-infused olive oil ("infusé d'amour" as a DIY project) given as favors.
Their shared love of travel showed itself in tables named for Provençal villages, Impressionist postcards serving as a guest book alternative, and a stunning cake from
Pink Baking Co.
that juxtaposed vintage postcards (created with edible ink) against a delicate lavender watercolor wash.
And the importance of family shined through in so many details: the inherited lace garter and ring box, pieces from Mom's collection of antique laces, Grandpa's vintage Absinthe fountain, Grandma's antique silverware, as well as her bride's basket (for the send-off) and toast rack (for the postcards), an ivory crochet hook used for generations … the list goes on and on!
Over the course of months of planning, we fell a little bit in love with these brides — beautifully portrayed by
Caroline Grace Blum
and
Rebecca Brennan
— and their story, and we hope you will too!
So much love for this stellar team!
Beauty:
Terry Tomb
•
Makeup by Amy Kennison
Cake:
Pink Baking Co.
Catering:
A Thyme Savor Catering & Market
Concept, Design & Planning:
Honeysuckle Events
Floral:
Eco Chic Blossoms
Gowns:
The Wedding Dress Shoppe
Models:
Caroline Blum
•
Rebecca Brennan
Photography:
1 of 13 Photography
Rentals:
L&L Tent and Party Rentals
Rings:
Albert F. Rhodes Jewelers
Specialty Rentals:
Relic Vintage Rentals
Stationery:
Southern Bee Designs
Venue:
Wrightsville Manor