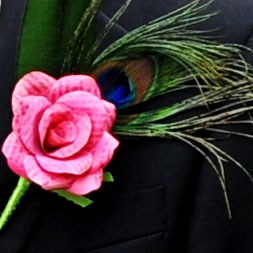 anatomy, part 4: details make the difference
English majors. Disney aficionados. Harry Potter fans.
Collectors of pirate lore.
Quirky. Witty. Proudly nerdy.
That's a lot to pack into one wedding, and even more to turn into a cohesive whole.
We gave ourselves two basic rules:
Each element had to speak directly to the couple and/or their relationship, evoking something very specific.
To make the cut, a thematic connection had to show up more than once, and ideally have at least some "cross-over." Using parchment and sealing wax for their invitations, for example, tied in not just pirates but Harry Potter as well. And the peacock feathers that made their way into bouquets, bouts, and the pens used to write messages for the bottle both embodied the color palette and summoned memories of the Renaissance Fairs Caitie attended for years with her maid of honor.
They chose their venue not only for its towering trees and "Beauty and the Beast"-worthy chandeliers, but because its sprawling grounds and charming guest rooms made possible a full weekend surrounded by their closest family and friends.
Their love of books of all sorts showed in the volumes incorporated into their centerpieces, the whimsical
readings
for their ceremony, the paper roses made from the pages of the book Curt read aloud when Caitie was sick, and the snippets of favorite passages she used to wrap the votive candles on every table.
The hat-tip to Disney — where Curt proposed in a spinning teacup — came in a
Mad Hatter wedding shower
; a Caribbean-inspired, steel drum-accompanied rehearsal dinner; the inclusion of many of the original stories in the stacks of books on each table; and the best of the romantic ballads to break up their eclectic music choices on the dance floor.
They added pocket watches to each tablescape both as a nod to
Alice
's White Rabbit and because a pocket watch was the first gift Caitie ever gave Curt.
They chose pies instead of cake not just because they fell in love with the mother-and-daughter bakery down the road from their venue, but because of Curt's family's pie-baking traditions, the cherry pies he'd made to celebrate each of Caitie's birthdays, and the raspberry pie he was determined to bake himself for them to cut at the reception. (Even their vows mentioned pie!)
And they paid tribute to family traditions with cherished pieces of silver and cut glass on the tables, well-loved books from family shelves, and a brooch of Grandma's to cinch the sash on Caitie's dress — as well as family-wide crafting, sewing, and wood-working efforts on everything from the book-page roses and hand-knitted Hogwarts scarves (presented as bridesmaids' gifts) to the birch-pole arbor for the ceremony.
Their wedding — these details — reflected the two of them so completely that it couldn't have been anyone else's.
Do we have the best job in the world or what?